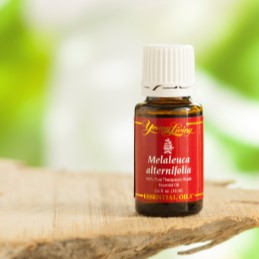 Melaleuca Alternifolia is one of the most popular and versatile essential oils of all time, and we are excited to add it to our Everyday Oils lineup! Here's a little info about this time-honored essential oil and how to use it:
Melaleuca Alternifolia, commonly called tea tree oil, is a fresh-smelling oil that can be found in a wide spectrum of skin care and spa products. Less known are the powerful properties that have made it a skin care mainstay in many cultures. Melaleuca Alternifolia can comfort and beautify the appearance of skin.
Comfort the skin by rubbing 1 to 3 drops of Melaleuca Alternifolia into the palms of your hands and gently massaging over areas of concern.
Add Melaleuca Alternifolia to your favorite Young Living massage oil to elevate your massage experience.
Diffuse Melaleuca Alternifolia to help moisturize the skin.